Solar Bag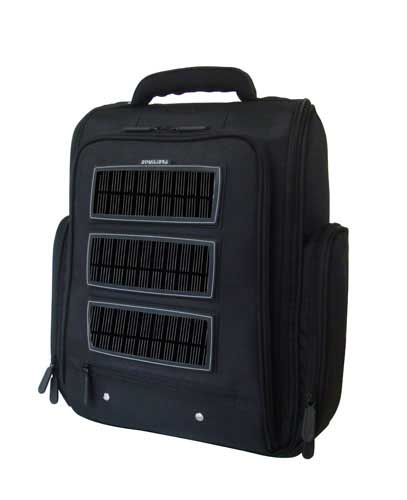 Solar Bag
* Backup power source in the computer backpack.
* Compatible for mobile phone, MP3, MP4,IPOD, PDA, PSP and other entertainment device.
* You can use Li-ion batteries, hydrogen batteries, dry batteries or any AA batteries to charger your phone
* Different Mobile Phone adaptors available
* Passed CE, ROHS, FCC, PSE, SON Certification.
Specs
■ Specifications
Dimension : 118 X 70 X 14 cm
Solar Power : 0.6 W
Output : 400mA, 6V
Battery : 1800mAH Rechargeable Li-polymer battery
Solar Panel Type : Monocrystalline silicon
Guarantee : 1 Year

■ Part List
Connecting Wire : 2 pcs
Optional Cell phone adaptor : 5 pcs
AC Adaptor : 1 pcs


We joined CEATEC Japan!

BlackBerry Day 2010

BlackBerry Bold Browser用
GauGau International Japan Co. Ltd.

Hokuyo Yutenji Building, 1-20-20 Shimouma, Setagaya, Tokyo, 154-0002, JAPAN
TEL +81-3-5433-2077
FAX +81-3-5433-2078
URL http://www.gaugau.co.jp

>> Download our catalog (Japanese)
※The company name, the product name, and the logo, etc. described in this site are the registered trademarks or trademarks of each company.